Politically Exposed Ukrainians
Dmytro Firtash
Oligarch, sponsor of the Party of Regions, controls group of MPs in Parliament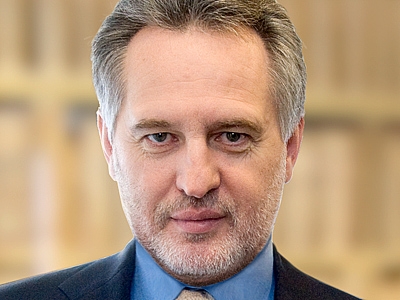 Dmytro Vasylovych Firtash – a Ukrainian businessman, investor, Head of the Board of Directors of Group DF, President of the Federation of Employers of Ukraine (FEU), Chairman of the National Tripartite Social and Economic Council (NTSEC), Co-Chairman of Domestic and Foreign Investors Advisory Council under the Ministry of Education, Science, Youth and Sports of Ukraine, member of the Committee for Economic Reforms under the President of Ukraine.
Owner of the Inter TV Channel and all Inter Media Group.
Firtash is co-owner of RosUkrEnergo and controls much of Ukraine's promising and lucrative titanium business. He gained control of previously state-owned titanium assets across Ukraine in 2004. He also owns several chemicals plants In May 2011 Firtash took over Nadra Bank (at the time Ukraine's 11th largest bank), Nadra Bank had gone into default in 2009 but it had restructured its foreign debt with significant write-offs since.
Firtash is a controversial figure in Ukraine. According to documents uncovered during the United States diplomatic cables leak Firtash told U.S. Ambassador to Ukraine William Taylor of needing permission from alleged Russian crime boss Semyon Mogilevich to do business in Ukraine during the lawless 1990s.[18] The same documents suggest that Firtash also claimed to be friends with President Viktor Yushchenko.[19] Firtash denied the remarks. Allegedly, Gazprom, a Russian natural-gas extraction company, had asked Mogilevich to oversee natural-gas deliveries from Russia to Ukraine via gas intermediary RosUkrEnergo. All parties deny connections with Mogilevich. Other cables said Firtash and Mogilevich were linked through ostensible offshore company vehicles either by joint ownership through former spouses or through Firtash heading companies in which Mogilevich's former spouse was the shareholder. It was also suspected that Raiffeisen Bank, an Austrian-based bank, was a front to legitimize RosUkrEnergo.
Certain analysts and Ukrainian politicians believe that Firtash is a secret force behind the sentencing of Yulia Tymoshenko in 2011 either as revenge or because of his "lucrative relations" with Russia he is deliberately hindering Ukraine's European Union integration. (Wikipedia)

One of the key sponsors of the Party of Regions and Viktor Yanukovych. He has a number of controlled MPs and ministers belonging to the so-called informal "Firtash group".
References